COLUMNS
Index by Chapter
xxxxxxxxxxxxxxxxxxxxxxxxx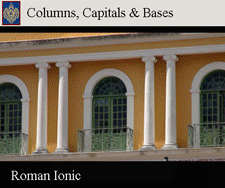 Imperial Productions ®
Columns, Capitals & Bases
Round, Square, Rope, Belly, Octagon
Load Bearing & Decorative Post Wraps
Remake Rotted Bases & Parts of Shafts
Elegance is achieved with facade colonnades or rooms separated with columns
Imperial has over 3000 standard models and any design idea can be created.
From modern to historic reproductions we make your vision a reality.
Standard models are made from load bearing GRG-NeoPlasterTM, & Fiberglass
while EPS, ArchPolymerTM, and PVC are purely decorative for post wraps.
For rotted column bases we can remanufacture part columns and new bases
| | | |
| --- | --- | --- |
| | On Line Column Search by.... | |
| 4) | 5) | 6) |
| 7) | 8) | 9) |
Related Pages

Element 13
All About Columns

Imperial offers the most complete collection of Load Bearing Columns and Decorative Columns

in standard and custom sizes.

For Plain columns consider Tuscan or Doric in Round or Square Shapes.

For Decorative Columns select from Roman Corinthian, Temple Winds, Scamozzi, Roman Ionic.

Imperial has different Shapes such as Octagons, Square, Belly and Ropes.

Most columns can be ordered in custom sizes for post wraps or historic reproductions.

Imperial's columns are made from

* 24 Hardwoods

* FiberComp an FRP Fiberglass

* PolyComp FRP

* ArchPolymer - a synthetic wood

* Aluminum a rust free solution

* PVC for Square Post Wrap

* Stainless Steel Cylinders

Capitals and Bases can be ordered separately to replace existing rotted ones. We can historically

reproduce them or supply standard capitals and bases.
How to Order Products 1-800-399-7585 416-264-6096

* All Prices & specifications in this website subject to change without notice

* Prices are net, Freight, Taxes & Duties charged where applicable otherwise client is responsible for remittance

* Measurements are approximate only, Final Product may vary from this website

COPYRIGHT MRDCI Martin Richards Design and Contracting Inc, Martin Richards DesignTM

and Imperial Productions® Feb 2018 all rights reserved

Last Update JAN-19
Note: This Product line is Not Imperial Metal Columns - Denoted and Marketed as Element 13

fiberglass columns, wood columns, columns, custom sized columns, round columns, square columns, pillars, twisted columns, rope columns, spiral columns, half columns, load bearing columns, fluted columns, split columns, column replacement, fireplace columns, porch columns, PVC columns, half wood columns, support posts, bungalow columns tapered columns, porch posts, column covers, square posts, square pillars, support columns, porch posts, display columns, octagon columns, tuscan columns, columns, non tapered columns, pilasters, column bases, capitals, bed posts, smooth columns, round load bearing columns, square load bearing columns, wood square columns, decorative columns, poly composite columns, PVC columns, belly columns, tuscan columns, cylinders, PVC square columns, recessed columns,
royal columns, imperial columns, reeded columns, plaster columns, exterior columns, interior columns